Create your own online SDS library and Hazardous Substances Inventory.
Select from our SDS database with over 24200 products to choose from.
If we don't have it, you can load Safety Data Sheets easily yourself.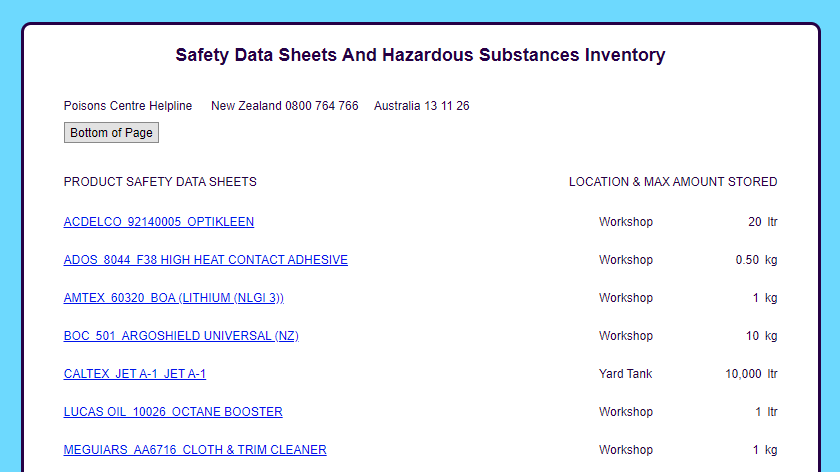 Search by Brand
Search by Product Code
Search by Product Name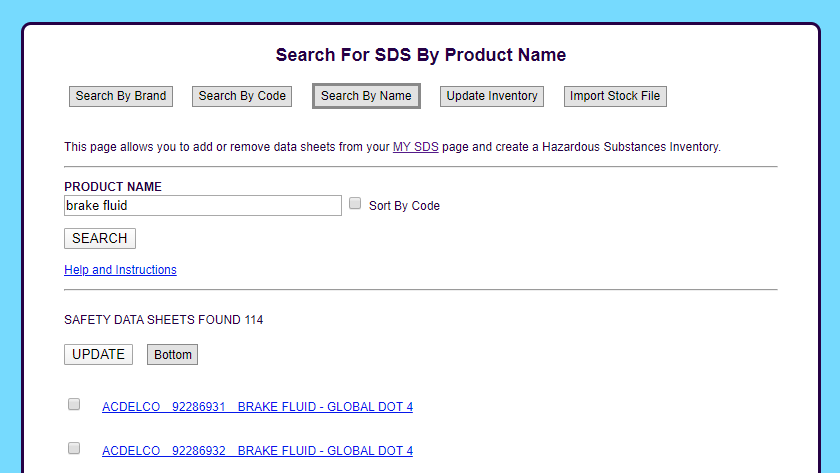 Search by Importing a Stock File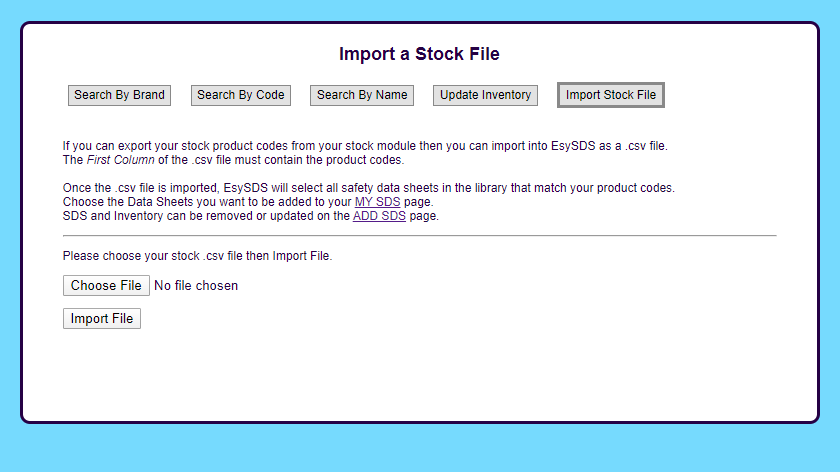 Load your own Safety Data Sheets if not available in the library.
Download SDS from the manufacturers website.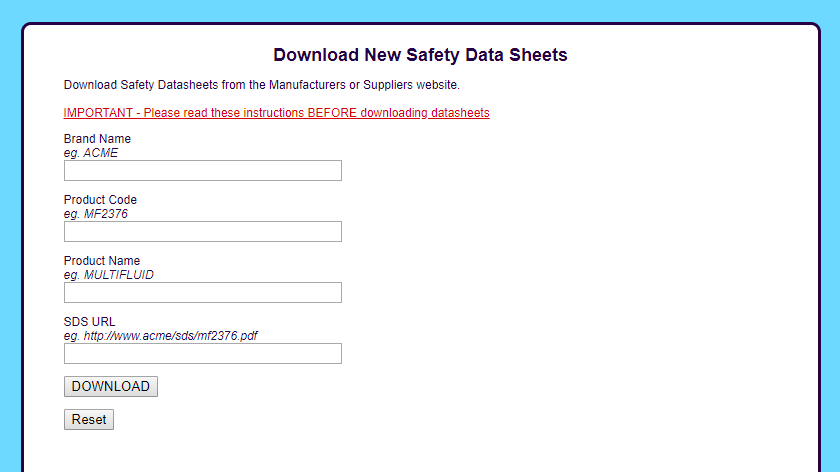 Upload SDS from your own computer.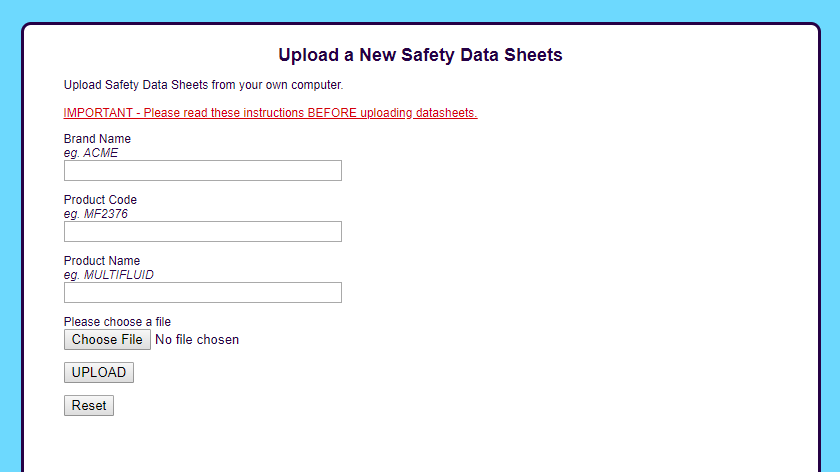 Add location and quantity of Hazardous Substances stored on site.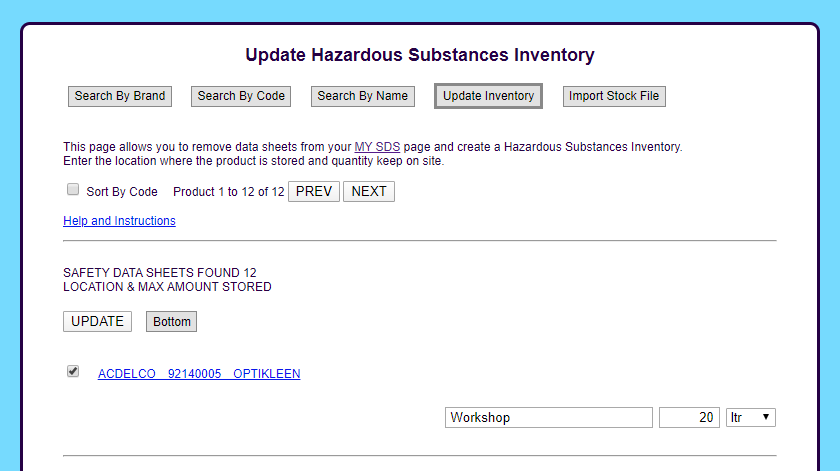 Your new MY SDS and Hazardous Substances Inventory can now be linked to your website or a desktop icon using an encrypted link.
View your Hazardous Substances Inventory from any internet connected device.
Click on product to open Safety Data Sheet.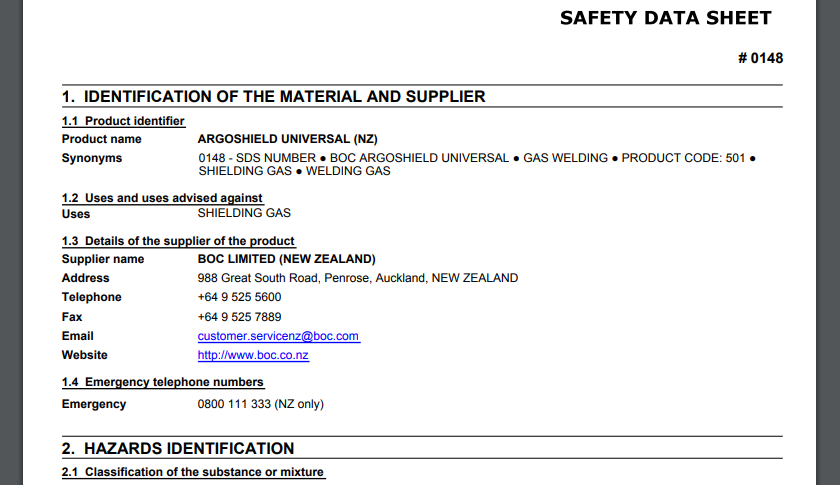 Reduce the time and effort required to be Health and Safety compliant, subscribe now and create your own online Safety Data Sheet library for your workplace.
Price
Only $5.00 per month
$60.00 per annum (minimum subsciption).
All prices in New Zealand dollars.
Subscribe Now


ACDELCO SDS BOC MSDS CENTURY SDS CRC MSDS MOBIL SDS FUCHS MSDS PATCH RUBBER COMPANY SDS Q-BOND MSDS ESSO SDS WURTH MSDS BP SDS NISSAN MSDS CASTROL SDS ACTIVE MSDS SUPERSHINE SDS STP MSDS LIGHTNING SDS PRO-MA MSDS LUCAS OIL SDS RADTECH MSDS MEGUIARS SDS WYNNS MSDS ORTHENE SDS REPCO MSDS KRYLON SDS TOYOTA MSDS PENRITE SDS VW MSDS VALVOLINE SDS NULON MSDS SELLEYS SDS HYUNDAI MSDS HOLDEN SDS TOTAL MSDS TMK SDS ELGAS MSDS GULF WESTERN SDS BMW MSDS TRW SDS *NZ MSDS HI-TEC OIL SDS EMKARATE MSDS ECO BRITE SDS LOCTITE MSDS PBR SDS MARSHALL MSDS EXTREME SDS Q8 MSDS BAY BATTERIES SDS ELECTROSOL MSDS ZIC SDS TOTAL AIR FLUSHING MSDS HELLA SDS GULL MSDS SILVERLINE SDS SUPERCHARGE MSDS BOSCH SDS Z ENERGY MSDS MOTORTECH SDS EXIDE MSDS AMTEX SDS REPSOL MSDS CYCLO SDS SUPER S MSDS XCELL SDS MOPAR MSDS YUASA SDS SHELL MSDS PENNZOIL SDS REDLINE MSDS CHEMTOOLS SDS RAIN-X MSDS HONDA SDS ADOS MSDS KOBA SDS MITSUBISHI MSDS BRUNOX SDS GREEN RHINO MSDS MALCO SDS PACER MSDS PRESTA SDS BERNOMATIC MSDS MERCEDES BENZ SDS KATANA MSDS CALTEX SDS AUTOSERV MSDS MOTUL SDS PETRONAS MSDS CLR SDS HOLTS MSDS ENI SDS MARKETING CHEMICALS MSDS CHEMTECH SDS ABRO MSDS MMP INDUSTRIAL SDS LIQUI-MOLY MSDS AIR LIQUIDE SDS NITROGENX MSDS MAJAC SDS AGIP MSDS HILLMARK SDS PARFIX MSDS POLY SDS PRO-SPEC MSDS SUREBOND SDS TALON MSDS TARZAN'S GRIP SDS TURTLE WAX MSDS ELF SDS VERTEX MSDS PEAK SDS DIVERSEY MSDS BNT SDS KIWICARE MSDS COREGAS SDS NUFARM NZ MSDS SIMPLE GREEN SDS ANCHORETHANOL MSDS ECONOCLEAN SDS BLACK MAGIC MSDS SEPTONE SDS FIX A FLAT MSDS PERMATEX SDS SLIME MSDS TECTALOY SDS BRISTOL MSDS FLOOD SDS HANDYCAN MSDS JOHNSTONES SDS PPG MSDS TAUBMANS SDS TEMPLE & WEBSTER MSDS WHITE KNIGHT SDS CONCEPT PAINTS MSDS PLASTI DIP INTER SDS VHT MSDS 3M SDS LITTLE TREES MSDS AMAZING SDS BLUE MOUNTAIN MSDS CAR PAINT BRANDS SDS CHALLENGER MSDS CHEMSPEC SDS CLEAN & SHIELD MSDS CLEAN-X SDS DOMINION SURE SEAL MSDS ELIMINATE SDS EMERTAN MSDS FARECLA SDS FUSOR MSDS GLASS SCIENCE SDS GPI MSDS GROOMERS CHOICE SDS HOLDFAST MSDS HOUSE OF KOLOR SDS KOALA KARE MSDS LECHLER SDS LYNDAR MSDS MECHANICAL PRODUCTS SDS METALUX MSDS NO MIX SDS POWER SERVICE MSDS PREVAL SDS REFRESH MSDS RISLONE SDS ROBERLO MSDS SEM SDS SPIES HECKER MSDS SPRAYSTORE SDS TETROSYL MSDS US SDS VIBRA-TITE MSDS WATTYL SDS ROYAL MSDS TEL SDS CAT MSDS TRP SDS SOLDERING FLUID MSDS WELLER SDS INOX MSDS FAST ORANGE SDS INTERNAL MSDS CUT AND POLISH SDS CAVIT MSDS CLINPRO SDS 30 SECONDS MSDS SEALED AIR SDS ADVANCE MSDS CHEMICO SDS SCALE AWAY MSDS PENTAL SDS DOMESTOS MSDS ADVANCE NATURE SDS INTERCHEM MSDS TERGOSTIP BO SDS CUROS MSDS DURELON SDS EXPRESS MSDS IMPRINT SDS ISO-FORM MSDS KETAC SDS LAVA MSDS RELYX SDS SCOTCH BRITE MSDS SCOTCH-BRITE SDS SCOTCHGARD MSDS SCOTCH SDS VITREBOND MSDS JASOL SDS SPRAYLUBE MSDS LIQUID ENGINEERING SDS KEMSOL MSDS TURPENTINE SDS PETROL MSDS DIESEL SDS TYRE SHEEN MSDS RAIN X SDS SOMACA MSDS RE-CO SDS COLOR PAK MSDS CHEM Z SDS WINGO MSDS HENKEL SDS VIBRA- TITE MSDS DUPLI COLOR SDS FAB 1 MSDS CLARK SDS HYDROCHLORIC ACID MSDS AMMONIA SDS BRAINBEE MSDS COMMAND SDS PHOTAC MSDS SOF-LEX SDS MORRIS LUBRICANTS MSDS CHMETALL SDS AUSBLUE NZ LIMITED MSDS THERMO FISHER SDS CUMMINS MSDS ECOLAB SDS DOW MSDS DREXEL SDS LONZA NZ MSDS PGG WRIGHTSON SDS BAYER MSDS ADAMA NZ SDS TORDON MSDS PASCOES SDS PGG WRIGHTSONS MSDS FMC SDS ETEC MSDS DU PONT SDS SYNGENTA MSDS GULF SDS PAINT PLUS MSDS BAR'S BUGS SDS KALIMEX MSDS LUBE GARD SDS GUNK MSDS LIQUI MOLY SDS FLAMEFIGHTER MSDS FLAMEGUARD SDS NIPPON OIL MSDS CCI CORPORATION SDS IDEMITSU LUBE MSDS MANNOL SDS WOLFCHESTER MSDS LUBRICANTS SDS KENSO MSDS CARSYSTEM SDS PENTOIL MSDS PENRITE OIL COMPANY SDS KENDALL MSDS UNIVERSAL BLUE SDS GORILLA MSDS ROCOL SDS FEBI MSDS BETTY'S SDS ALLCHEM MSDS ENEOS SDS OB CARE PROFESSIONAL MSDS GLASURIT SDS BASLAC MSDS NORBIN SDS AEGIS MSDS XPS LUBRICANTS SDS STIHL MSDS PACER FAP025 SDS PACER CP4 MSDS PACER ED20 SDS PACER FCS20 MSDS PRO-MA SYSTEMS SDS LUBEGARD MSDS VOSSCHEMIE SDS MOBILE MSDS RECO SDS SUPREME CLEANING PRO MSDS ROYAL PURPLE SDS SC JOHNSON MSDS LUCAS SDS ANDREW MSDS LACQUER THINNERS SDS PENTOSIN MSDS SIMONIZ SDS WORLDPAC MSDS ENVIROCHEM SDS KEROSENE MSDS EXXON MOBIL SDS CENTURY YUASA MSDS AC DELCO SDS EUNOS MSDS S OIL SDS CHEMZ MSDS MOREYS SDS GRIFFITHS MSDS MBL8 SDS COOLDRIVE MSDS JB WELD SDS POR15 MSDS PPC SDS SUPER DOT 4 MSDS TASKI SDS AUTOSTAR MSDS REMA TIP TOP SDS PATCH RUBBER MSDS BUTANE GAS SDS BELFOR AUTO ONE MSDS SHELL NATURELLE S2 SDS VIBRA - TITE MSDS B'LASTER SDS BOSTIK MSDS CUPRIC SUFATE SDS CUPRIC SULPHATE MSDS SIGMA-ALDRICH SDS GALMET MSDS WORTHINGTON CYLINDER SDS PLEXUS MSDS FIAMM SDS MINERAL TURPENTINE MSDS CHEMICAL BOOK SDS CHEMETALL MSDS ECOLAB NEW ZEALAND SDS SPRAYTITE NZ MSDS SST NEW ZEALAND SDS LUNA SENSATION MSDS GROCHEM SDS DKSH MSDS ORION SDS NUFARM MSDS ARXADA SDS ADRIA MSDS UPL SDS UNITED FISHERIES MSDS CORTEVA AGRISCIENCE SDS THERMOFISHER MSDS WAIKAITU SDS Z ENERGY LIMITED MSDS ELGAS LIMITED SDS ITW POLYMERS & FLUID MSDS CHEMZ LTD SDS RUST-OLEUM CORPORATI MSDS GULF WESTERN OIL SDS ITW POLYMERS & FLU MSDS LAFFORT SDS ACTIFLORE® - ZYMAFLO MSDS ERBSLOH SDS AAKLAND CHEMICALS MSDS PINDONE SDS KEY INDUSTRIES LTD MSDS YARA FERTILIZERS (NE SDS UPL NEW ZEALAND LTD MSDS NOVOZYMES AUSTRALIA SDS LONZA NZ LIMITED MSDS ETEC CROP SOLUTIONS SDS ADAMA MSDS SYNGENTA CROP PROTEC SDS YARA MSDS AGRITRADE SDS ARXADA NZ LIMITED MSDS BIOSTART LTD SDS ADAMA NEW ZEALAND LT MSDS YARAVITE ZINTRAC SDS ORION AGRISCIENCE LT MSDS BIOWEED SDS ORGANIC CROP PROTECT MSDS JH BIOTECH, INC. SDS HORTICENTRE LTD MSDS PERMA-GUARD, INC SDS TUI PRODUCTS LTD MSDS BASF NEW ZEALAND LTD SDS ATL MSDS BLASER SDS FGI MSDS CARPENTER SDS REICHHOLD LLC MSDS CLARK PRODUCTS LTD SDS HS COMPOSITES MSDS INTERNATIONAL PRODUC SDS AKZO NOBEL COATINGS MSDS SYNTHEPOL SDS ROTH MSDS RELTON SDS SIKA MSDS PPS SDS TBI INDUSTRIES MSDS CHEM-TREND SDS SOUTHERN GAS SERVICE MSDS FABRUM SDS ROOTS SHOOTS &FRUIT MSDS GROSAFE SDS OCP MSDS HENRY MANUFACTURING SDS ACADIAN MSDS LALLEMAND INC SDS ORION AGRISCIENCE MSDS RCS CLEANERS WAREHOU SDS THERMO FISHER SCIENT MSDS BUFFER SOLUTION 7 SDS BUFFER SOLUTION 4 MSDS MERCK SDS HUSQVARNA MSDS AGRONUTRITION SDS WURTH NEWZEALAND LTD MSDS STAINOX SDS CITRIC ACID MSDS CAUSTIC SODA 30% SDS CAUSTIC SODA 50% MSDS PERFORM SDS ACTIVFORCE MSDS MILLIPORE SDS DIESEL FUEL MSDS CASKADE SDS INTERNATIONAL PRODUCTS CORPORATION MSDS RBS SDS DULUX MSDS FORMULA SDS FLUX MSDS TIG BRUSH SDS SPIRAX SARCO MSDS SOUTHERN GAS SERVICES SDS EASY CLEAN MSDS RZBC SDS PAC RIM MSDS PRENZEL SDS AIRD MSDS DIGGERS SDS ENARTIS MSDS ERBSLöH SDS AEB MSDS FORMULA FOODS CORPOR SDS RECTORSEAL MSDS RUST-OLEUM SDS COLORPAK MSDS STRUERS SDS PROFORM MSDS NU-CALGON SDS WELD-ON MSDS DY-MARK SDS PPS INDUSTRIES LIMIT MSDS AIRGAS SDS ALLIED PETROLEUM MSDS SWARFEGA® SDS FISHER MSDS MOREY'S SDS CAVIRO MSDS BASF SDS CORTEVA MSDS SPRAY OIL SDS